Stephen King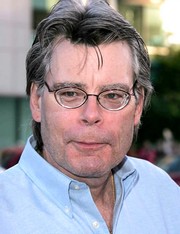 4 Quotations from Stephen King
jaunt

v.

1981 The Jaunt in Twilight Zone Magazine June 22/1 Carew only Jaunted once more in his entire life. [Ibid. 23/1] It's the first object we have that was actually teleported—Jaunted—across space.
saucerian

n.

1983 Playboy Interview (June, 1983) in Bare Bones (1989) 39 [Learning just before he saw Earth vs. the Flying Saucers that the USSR had launched Sputnik] A transition from fantasy to a real world suddenly became far more ominous and threatening. And as I sat there, the film concluded with the voices of the malignant invading saucerians echoing from the screen in a final threat: 'Look to your skies... A warning will come from your skies... Look to your skies...' I still find it impossible to convey, even to my own kids, how terribly frightened and alone and depressed I felt at that moment.
space gun

n.

2

1984 Ballad of the Flexible Bullet in Magazine of Fantasy & Science Fiction June 45/1 Somehow that rotten little kid was shooting Rackne, killing it with a two-dollar space gun from Kresge's.
thought wave

n.

2008 Duma Key XIII. ix. 402 As for you, your talent's empathy. And on Duma Key, empathy got raised to telepathy. [...] Would you trade one for the other in any case? Your eyesight for the occasional thoughtwave?