C. M. Kornbluth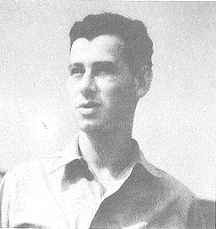 See all quotes from C. M. Kornbluth
5 First Quotations from C. M. Kornbluth
colony planet

n.

1942 Perfect Invasion in Stirring Science Stories Mar. 10/2 I don't know what it was like before; the usual colony-planet, I suppose, with labor-barracks and factories and semi-detached homes.
Earther

n.

1952 Make Mine Mars in Science Fiction Adventures Nov. 73/2 ATTN MCGILLICUDDY RE CLIENT RELATIONS NEED SOONEST ILLUMINATED SCROLL PRESENT HOMER WITHERSPOON PRESIDENT FROSTBITE HONORING HIM 40 YEARS MEMBERSHIP FROSTBITE PLANETARY PARTY USUAL SENTIMENTS NOTE MUST BE TERRESTIAL STYLE ART IF NOT ACTUAL WORK EARTHER ACCOUNT ANTIBEM PREJUDICE HERE FRBBUO END.
spacing

n.

1

1942 Crisis! in Science Fiction Quarterly Spring 130/2 Earth was in a very peculiar situation. Only a century ago it had begun really intensive spacing, with freight-exchanges and mining.
stunner

n.

1941 Fire-Power in Cosmic Science-Fiction July 12/2 Armament, every first-class operative own a hand-gun and shells. Most of them carry illegal personal electric stunners.
time cop

n.

1953 Time Bum in Fantastic Jan.–"Feb. 143/2 TAIM KOP NABD: PROSKYOOTR ASKS DETH Patrolm'n Oskr Garth 'v thi Taim Polis w'z arest'd toodei at hiz hom, 4365 9863th Strit, and bookd at 9768th Prisint on tchardg'z 'v Polis-Ekspozh'r.